stasis & werewolves
well.
I love films and after the other night of watching Event Horizon and The Howling, I came to the conclusion that there are two things that I absolutely love in films...

Stasis

Stasis is a science fiction concept that denotes the suspension of the passage of time, whether by biological means (deep sleep/hypersleep) or physical means, called stasis fields.

for a girl who is deathly afraid planes and gets anxiety just thinking of heights and even outer space and whatever exists out there~ I am in love with sci fi and the thought of films starting off with individuals in stasis mode while they are out in space in the middle of fucking nowhere is the greatest thing.



(Event Horizon 1997)



(Prometheus 2012)



(Alien 1979)

Human - to - Werewolf transformation
also known as Lycanthropy;
is a mythological or folkloric human with the ability to shapeshift into a wolf or an anthropomorphic wolf-like creature, either purposely or after being placed under a curse and/or lycanthropic affliction via a bite or scratch from a werewolf, or some other means.



(american werewolf in london 1981)



(the howling 1981) you can see the entire transformation here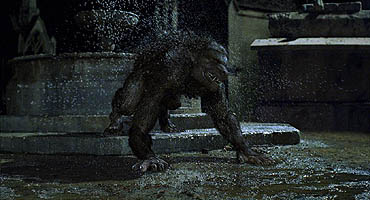 although when it comes to H2W transformation CGI has completely messed it up in recent years, obviously film directors now turn to CGI instead of old school makeup effects (i only assume that its cheaper to throw in some special effects/CGI than to have someone in a chair for hours at a time putting makeup/removing it after each scene) I remember the first time I ever saw American Werewolf in Paris and remembering... that is just awful even at a young age thinking "that's so not real" but still am a fan of the movie. I suppose i prefer something that i think would be capable of existing~